October 20, 2011 ABSOLUT WHITE - New limited second skin in UK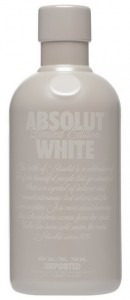 In 2009 british department store Selfridges presented special limited edition second skin called "Absolut 100 Selfridges".
Two years later there is another limited edition second skin - Absolut White. It is exclusively available only in Selfridges (United Kingdom). Only 5000 pieces made!
"Featuring a pearly white finish, the new Absolut White bottle (700ml) follows its chic and stylish limited-edition predecessors like Crystal Pinstripe or Elyx.
A new design for the brand's 80-proof vodka, Absolut is offered in the Selfridges' Birmingham, Manchester and London stores, and on Selfridges.com for £29.99."