March 30, 2009 IAAW: Opportunities Always Pop Up
There is a new IAAW magazine ad I never saw. What about you? This version appeared on eBay and comes from Israel.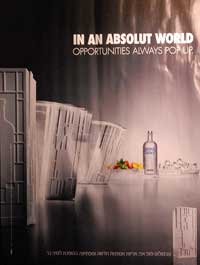 This ad promotes the new limited edition packing "ABSOLUT POP UP AND SERVE MINI BAR". You can get it on eBay here. This packign is available at least in Israel and comes with 1L bottle bot there will be three different sizes available. 750ml, 700ml and 1liter.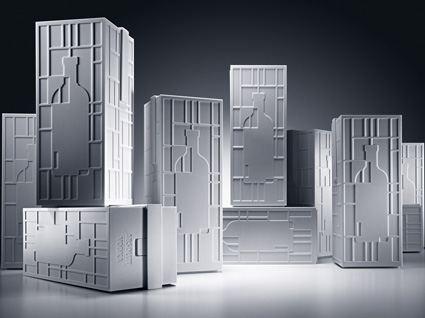 In an Absolut world the party is anywhere especially in the Exit office. With a history of creating extraordinary products and innovating globally renowned new ways in which to package them, ABSOLUT is now launching a stylish new 'mini bar' gift set.  When the white architectonical box unfolds, the inside reveals itself as a portable 'mini bar' to be filled with garnish and ice, with a classic ABSOLUT VODKA bottle nesting in the middle – intended to make it easier to create the most stylish party anywhere, we've tried it in the office in various departments and can definitely say the we partied harder and harder at each new desk we took the party too… Coming Spring 2009″
It looks like this packing will be distributed worldwide.