July 26, 2008 Absolut Summer: New gift pack only for UK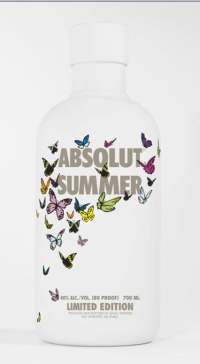 Absolut Summer follows on from previous global gift packs Absolut Bling and Absolut Disco and has been designed using white plastic decorated with butterflies.
We're delighted to launch this as the first ever UK-specific Absolut Vodka gift pack," said Linda Phillips, brand manager for Absolut Vodka at Maxxium UK.
Absolut Summer will be available from August, through branches of Sainsbury's.
In addition Absolut Vodka is launching two limited edition cocktail shakers to encase bottles of Absolut Raspberri or Pears. They will be available from July, and will be sold through selected branches of Asda and Morrisons with an RRP of GBP14.99.