July 4, 2008 Absolut Masquerade gift pack available in travel-retail from September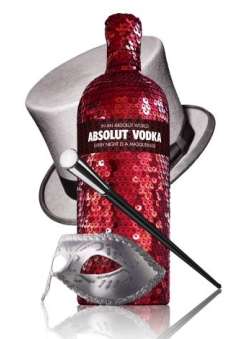 Liquor supplier V&S Absolut Spirits has unveiled this year's gift pack for its Absolut vodka. Absolut Masquerade is inspired by glamourous costume parties and features a package design of 3,238 shiny red spangles in the shape of the Absolut bottle.
V&S Absolut Spirits Global Travel & Retail director Anders Olsson said: "Our new gift pack builds on the legendary Absolut history of creative and ground-breaking bottle and package design. We are confident that the new design will be at least as much appreciated as its ground-breaking predecessors, Absolut Bling Bling and Absolut Disco.
"With this spectacular outfit we have extended the concept of what a gift pack can offer consumers even further, and we hope it will inspire people to embrace the glamorous side of themselves by turning an ordinary night into a masquerade," Olsson concluded.
The new Absolut gift pack will be available in duty-free from September and will be distributed by Maxxium Global Travel Retail.