April 9, 2008 Absolut vodka pulls ad showing California in Mexico
The distillers of Sweden's Absolut vodka have withdrawn an advertisement run in Mexico that angered many U.S. citizens by idealizing an early 19th century map showing chunks of the United States as Mexican.
Although it was not shown in the United States, U.S. media outlets picked up on the ad, and after a barrage of complaints, Absolut's maker said on Sunday the ad campaign would cease.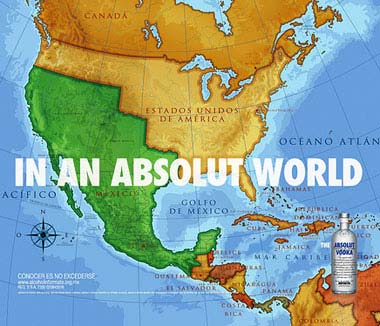 Defending the campaign last week, Absolut maker Vin & Spirit said the ad was created "with a Mexican sensibility" and was not meant for the U.S. market.
"In no way was this meant to offend or disparage, nor does it advocate an altering of borders, nor does it lend support to any anti-American sentiment, nor does it reflect immigration issues," a spokeswoman wrote on Absolut's Web site.
More about this topic here on reuters.com.