July 18, 2007 New Flavor: Absolut New Orleans - Mango with Black Pepper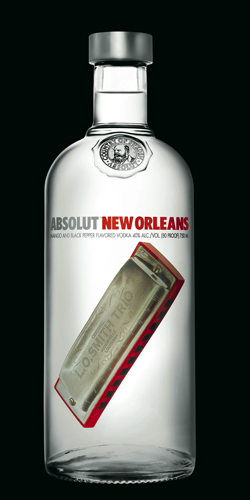 On August 1 the new Absolut Vodka flavor will be available in limited edition and called ABSOLUT NEW ORLEANS.
Absolut New Orleans is a limited edition one-off product that sports a taste of mango and a spicy kick, designed to evoke the flavor and vibrancy of the southern city. The bottle features an image of a harmonica, reflecting the musical culture that has defined the city, which, just under two years ago, was ravaged by Hurricane Katrina.
Absolut New Orleans vodka will be introduced Wednesday afternoon at Tales of the Cocktail, an annual New Orleans gathering of more than 10,000 cocktail drinkers, mixers and manufacturers.
The vodka is a limited run of 35,000 cases - 3 1/2 times the company's total U.S. sales in 1979.
The product is in the tradition of Absolut's old city-themed campaign–but in this case it's not just about a city, but for it, as well. All profits from Absolut New Orleans will be put toward revitalization efforts throughout the Gulf region. Among the charities that will benefit are Habitat for Humanity, which is playing a key role in the region's reconstruction, and the Louisiana Restaurant Association, which is helping local eateries bounce back and continue to provide the cuisine for which the area is so famous.
---
You can shop online on
sunglass hut
to find out the latest designs in designer sunglasses. The company operates hundreds of stores inside America where they sell sunglasses on retail prices. You can also buy designer
watch
and
men's shoes
online. While doing
online shopping
, take in to account the fraud factors like credit card theft.