May 1, 2007 In an ABSOLUT World: New Absolut Vodka Campaign
I spent last few weeks in hospital so I was not able to update AbsolutAds.com. But there was nothing special anyway. Until yesterday. Absolut Vodka announced new campaign called "In an Absolut World". Read more in their press release:
ABSOLUT VODKA announced its next groundbreaking global advertising campaign titled "In an ABSOLUT World." The new advertising challenges the status quo by presenting a bold and optimistic world view. The global launch is supported by a fully-integrated marketing campaign, including print, broadcast, out-of-home, public relations, on-premise promotions and viral activity. Created by TBWA/Chiat/Day/New York, the campaign will break in the U.S during the week of May 15 with a broadcast spot and print executions in June weeklies.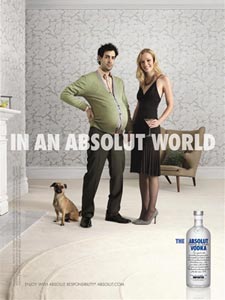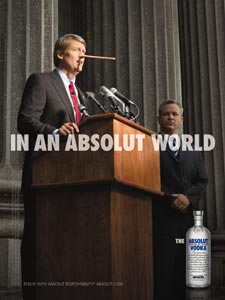 The global campaign will also roll out in 12 international markets this year, beginning with a broadcast execution titled "Disco Moon" in Germany on April 27. Additionally, the campaign will be complemented with executions tailored to their niche market consumers along with an interactive experience at ABSOLUT.com.
"In an ABSOLUT World" is a powerful campaign that provides a rich framework for the ABSOLUT brand that builds on the foundation established by 'The Absolutes' campaign last year. Our consumers are intelligent, and we hope they have a gut reaction that sparks conversations and challenges them to think about their vision of an "ABSOLUT World," says Tim Murphy, Senior Brand Director, The Absolut Spirits Company, Inc.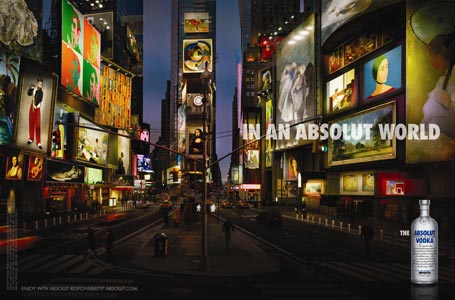 The first U.S. broadcast spot, titled "Protest" depicts an epic scene that opens with a tense standoff between protesters and police. As the clash ensues, the viewers witness a massive, friendly pillow fight — demonstrating an alternate way to resolve conflicts. Filmed in Uruguay by Director Frederik Bond and Director of Photography Guillermo Navarro — an Academy(R) Award winning Cinematographer — this production was the largest in the country's history.
The first U.S. print advertisement to launch is a photo of Times Square with iconic works of art installed in lieu of advertising. Other print executions include a factory emitting harmless bubbles instead of smoke, a pregnant man with his wife at a cocktail party and a bar scene where people wear buttons labeling their dating status and mindset.
"The new campaign visually answers the question: what if everything in the world was a little bit more Absolut? It's not necessarily about perfection, but about making the world better by seeing it with fresh eyes. As the story unfolds you can expect commentary on topics and ideas big and small, serious and humorous, timeless and of the moment," said Rob Smiley, Creative Director at TBWA/Chiat/Day/New York.
The new campaign also includes an industry-leading social responsibility broadcast spot. Titled "Taxi," the spot illustrates a young couple exiting a club. As they press the key fob, instead of unlocking their car it signals a taxi, suggesting that in an "ABSOLUT World" people would always call a cab or use a designated driver after they drink. "The campaign speaks to consumers on multiple levels. The topics range in scale and tone but use the same clever voice ABSOLUT has used for more than 25 years," adds Murphy.
"In an ABSOLUT World" will also be supported by viral elements that will bring the idea to life for consumers. On May 14, ABSOLUT will begin a week of guerrilla activities in New York that will make the city a better place for one week. Consumer activities include rickshaw rides in Soho and the Meatpacking District, music downloads in Union Square, Metro Card giveaways and VIP treatment at select downtown restaurants and clubs, all compliments of ABSOLUT.
The campaign will continue this summer with customized out-of-home executions in New York, Los Angeles, San Francisco, Miami, Las Vegas and Chicago that speak directly to these geographic communities.
---
The ONT 642-845 test will attest that the successful candidate has significant understanding and skills in optimizing and supplying valuable QOS techniques for unified networks. EX0-101 is the latest ITIL Foundation exam. 642-825 test covers subject areas on Cisco hierarchical network structure as it relates to the WAN, in addition to the teleworker configuration as well as its access. The CISSP CBK is essentially based on the CIA arpeggio, the fundamental information security as well as assurance doctrines: secrecy, reliability and accessibility. 350-018 covers areas like individual VPN concentrators, which generate secure channels into the enterprise and recover the security of branch operations and far-off employees.